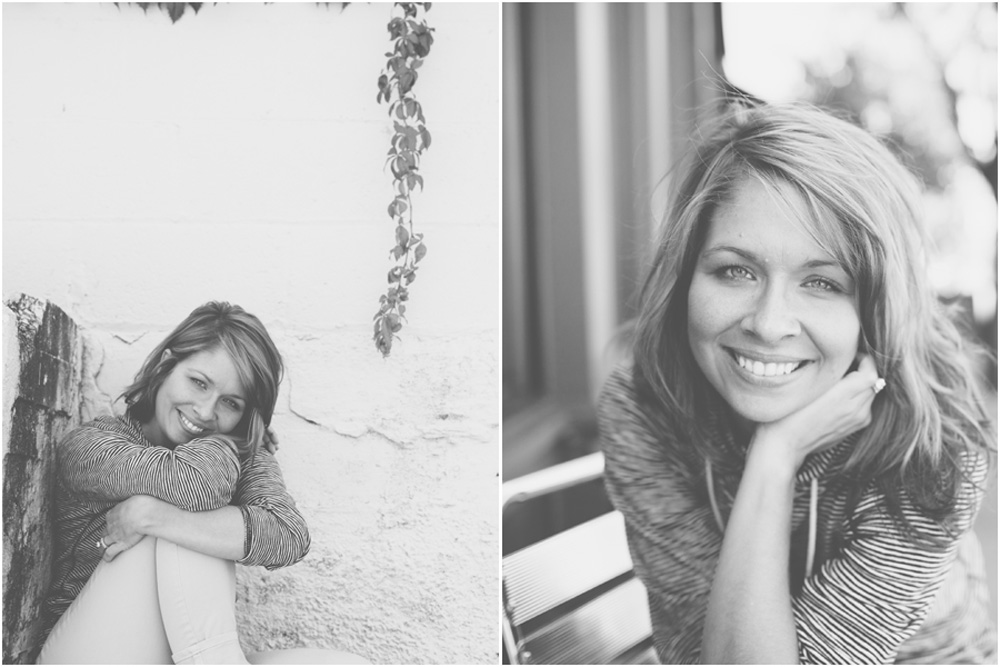 If you hang around here long enough you will learn all there is to know about this small town girl with big awesome dreams!! But, I don't mind at all spilling a little beans here so you can get a glimpse into the girl behind SRP!
I was not the little girl at the age of 5 walking around with a fisher price camera, but I have always been the girl to go after my dreams and stop at nothing to make them happen.  Except when those dreams involved me packing up and moving to the BIG APPLE.  Not happening.  I love NY and all it has to offer, but this small town girl would have been eatin' alive.  So, after graduating with a BA in Fashion Design & Merchandising from O'More College I took an amazing job with VF Corporation in Nashville.  I was headed down the path of corporate working & living.  Insert tall, dark & handsome fella who looked a LOT like Superman and both of our lives changed forever.  
In 2005, Terry & I were married, sold a house, bought a house, moved to a different state and started new jobs all within the first two months!  Call us crazy?  I like to call it "the best decision we ever made".  I could write a book about all that fun change, but will just jump to December 16, 2006.  The day our sweet baby boy Tyler Drake was born.  Don't worry, you will hear & see lots about my brown eyed boy if you decide to stay for a while.  Anyway, after about a month of using a point & shoot to get "beautiful" images of my boy I was sad.  So sad.  The pictures were terrible.  So, guess what I did?  I know there are some that are screaming "you became a MOM WITH A CAMERA!!!".  Oh, yes.I.did.  But, back then I had absolutely no intentions of becoming a professional photographer.  However, It's truly where my desire to capture laughter and life, all because of love, began.  
So, fast forward a little bit more…and, when I say a little bit I mean when Tyler turned 1 we packed our bags and headed back to Nashville AND 1 month after THAT, our blue eyed wild man Colton James was born.  We liked to live in the fast lane I guess you could say.  But, something happened.  Something I speak pretty openly about.  I suffered pretty severe PP depression.  For 3 months I would get through the day and when Terry would walk in the door at 5:30 I would hand him both boys and go to bed.  I had completely lost myself.  
It was time to get back to being Sara and find what my purpose was in this life.  You know we all have one, right?  Okay, just making sure.  I dabbled in making cute appliqued tee's for sweet babies.  Didn't make a lick of money and worked my tail off, but it was fun.  For a short.period.of.time.  Wasn't fun when Terry pulled up my numbers and informed me I was in the negative every single time I made a shirt and shipped it.  The End to Stitched with Love.  
This story is just getting started…have I lost you, yet?  If you are still here we are going to be GREAT FRIENDS!  So, insert a petite beautiful new friend.  Someone who would play one of the biggest roles & still does with my business today.  Amber Housley.  Ever heard of her?  Thought so.  I love her big time.  She was the FIRST person to notice my photography.  She walked into our home late one Summer day in 2009 and commented about my "love for photography"?  Who, me?  What mom doesn't love photography?  But, she saw something.  Two weeks later I would attend my first ever Photography Workshop with Dove Wedding Photography.  A couple months later I would attend a business workshop with Justin & Mary called Spread the Love.  Both were because of Amber.  I sat in that room with some of the most AMAZING photographers in Nashville.  I was both star struck and humbled.  This was serious business and it was time I took it seriously.  During that workshop, Mary asked us to write our eulogy.  Talk about a gut check.  Talk about everyone in that room crying.  What do YOU want people to say about you when you die?  I don't know about you, but I sure hope it is along the lines of "she lived a great life, she adored her family, she was a great friend, she lived with purpose…and she used EVERYTHING God gave her". 
So, I didn't know it at the time but I would meet someone in that workshop that would also play a critical role in the person & photographer I am today.  Sarah B. Gilliam.  I am well aware that you all know her, because I have talked about her over & over & over again.  She emailed me about a week after that workshop just to introduce herself.  You know she didn't have to do that!  She emailed me to give me some feedback about my work.  And, although now I know that all the positive mess she was spilling was because she already "knew me".  She knew she had to come in gently and not all guns a blazing.  But, she took me under her wing and has been my mentor ever since.  I can't preach enough about how truly important it is to have a mentor.  I plan to blog more about having a mentor soon, but just know I WOULD NOT be where I am today without her guidance, honesty, belief that I COULD DO IT and friendship.  I love her.  
So, here I am.  A few years in.  It has been far from easy.  And, it wasn't because I bought a really nice camera and decided one day to become a professional photographer & own a business.  There is so much more to "my" story, but you will have to stick around to hear it!  I have made plenty of necessary & unnecessary mistakes.  I have worked so hard and I am still a believer that if you "work really hard, amazing things will happen".  Amazing things like being asked to work on a life changing project for the MTMC NICU!  Amazing things like getting to work with some of the best families in Middle Tennessee.  Amazing things like not having to work as MUCH going forward.  Did you know I worked every single Saturday & Sunday the first two years?  Yes.  DON'T do that.  That's insane people.  Lots of changes have taken place in my personal & professional life.   However, I am surrounded by a selfless & supportive husband, two of the sweetest boys & some of the greatest friends. I live with no regrets and know NOW that this is my purpose.  I am meant to capture laughter & life all because I truly love doing it.  I love families, I love babies, I love children, I love grandparents, I love happiness, I love realness, I love LIFE.  I really do.  I do know that life is not always sunshine & butterflies, but you know what else I know now…  We ALL have a choice.  I just choose to get up on the right side of the bed every morning.
Welcome to my life.  What you see is really what you get, friends!
X's and O's, saraerose