Sara,
What a joy it was to work with you! Even upon meeting you for the first time, you immediately felt like family. The hustle and bustle of our mornings as two working parents, trying to get 2 children out the door, make for a busy start to many days. It was a treat to take one of those mornings and wonder around our neighborhood, playing and taking photos! And I am so grateful to you for encouraging us to play. It is nearly impossible to get a 2-year-old to cooperate during a photo shoot, and as a mom, it can be stressful hoping it get a few good shots before said 2-year-old melts down. You made the session completely stress free, giving us permission to stray from photos for a few minutes to let the children run off some energy.
You so quickly won Sadie and Bowen over and had them smiling the sweetest smiles and asking when "Miss Sara" would come back to play! When you asked me to pick my 5 favorites from the session, I thought, that will be impossible with so many wonderful images. And it was very hard… but here are a few of my favorites!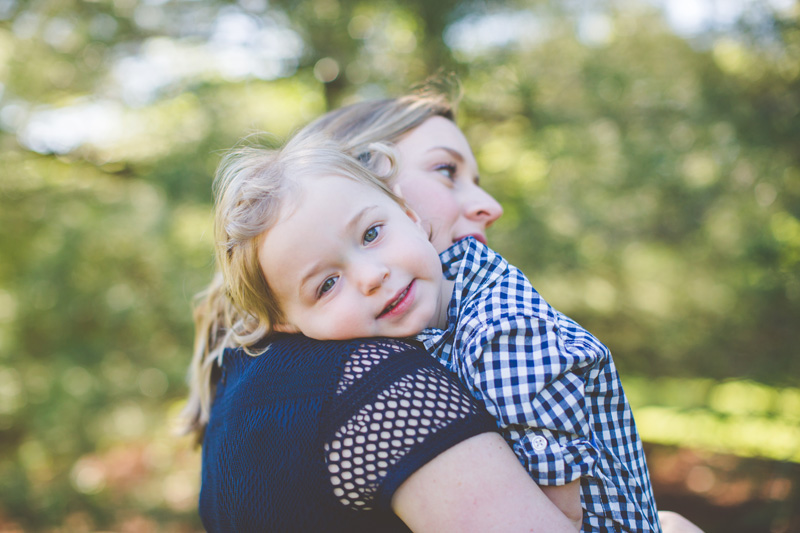 I love it when my little guy tucks in and puts his head on my shoulder. He is such a cuddler and I am so glad that little routine snuggle was caught on camera. This image will always remind me how that little body feels, even when he gets bigger.
These two. I love the matching joy on their faces.

I mean, this hug…what can I say. They love each other so and I will make sure they always remember that! Sadie is such a little mommy and you can really see that here!

I secretly love images where we are all 4 looking at each other, like a little private family moment was captured.

The impromptu creek wading! This is a typical summer activity for the kiddos and I had not really thought of taking photos at the creek, but I am so excited to have some images for the kids to remember our creek fun.
That morning, just being together as a family and breaking free of the normal routine, has already gone down as one of my favorite memories this year. I am so grateful to Rebecca for connecting us with you and so thankful to you for helping us create wonderful memories and for giving us such beautiful images to cherish! Love your sweet soul, Sara Rose. xoxo
–Anna